Preaching the gospel of Jesus Christ of grace alone, through faith alone, for the glory of God alone!
Why do we preach the gospel of Jesus Christ?
For Christ sent me not to baptise, but to preach the gospel: not with wisdom of words, lest the cross of Christ should be made of none effect. For the preaching of the cross is to them that perish foolishness; but unto us which are saved it is the power of God. For it is written, I will destroy the wisdom of the wise, and will bring to nothing the understanding of the prudent, Where is the wise? where is the scribe? where is the disputer of this world? hath not God made foolish the wisdom of the world? For after that in the wisdom of God the world by wisdom knew not God, it pleased God by the foolishness of preaching to save them that believe. For the Jews require a sign, and the Greeks seek after wisdom: But we preach Christ crucified, unto the Jews a stumblingblock, and unto the Greeks foolishness; But unto then which are called, both Jews and Greeks, Christ the power of God, and the wisdom of God. Because the foolishness of God is wiser than men; and the weakness of God is stronger than men. I Corinthians 1:17-25
The purpose of CITA-USA.COM is first and foremost, to preach the gospel to the lost, and secondly, to keep you informed on what the Christ is the Answer USA Ministries is doing. If you have a desire to preach the gospel full-time, please contact us.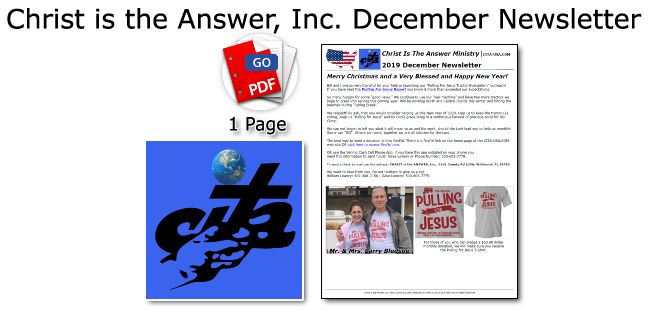 It's been 52 years since the Jesus Movement made the front page of Time Magazine in June of 1971. The Jesus movement was credited with turning tens of thousands of young and old, from drugs, alcohol, promiscuous, and violence, back to God!

Christ is the Answer Ministries played a leading role in the Jesus Movement in the 1970's and today is endeavoring again to bring spiritual renewal. Surely the time is right for such another great move of God's Spirit throughout the United States.